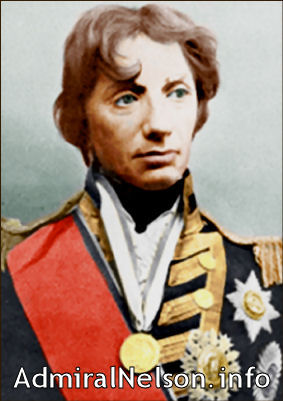 Copyright Vicki Hassona 2013

Alexander
Alexander towing Vanguard during the storm which nearly sank Nelson's flagship

74-gun 3rd rate ship-of-the-line

Launched October 1778.
Broken up in 1819.
Nelson was a passenger on board in July 1800 before his overland journey to England with the Hamiltons.

Presence at Nelson's battles:

Nile

:

Captain Alexander John Ball.

Career:

March 1780

:

Captured the French 38-gun frigate Le Monsieur. (Capt. Edward Longford)

September 1782

:

Assisted with the relief of Gibraltar; took part in the Battle of Cape Spartel in October. (Capt. Edward Longford) (See Victory's career for more details of the battle.)

June 1794

:

Sailed with Rear-Admiral Montagu's squadron to join Lord Howe; chased a French squadron into Bertheaume; after being chased by a larger French squadron, returned to Plymouth. (Capt. Richard Bligh)

November 1794

:

Off the Scillies with the Canada, was attacked by a squadron of 5 French 74s. Canada escaped, but Alexander was captured and renamed L'Alexandre. (Capt. Richard Rodney Bligh)

22nd June 1795

:

Recaptured in the Battle of Groix and towed back to Plymouth to be renamed back to Alexander.

21st May 1798

:

During Nelson's chase of the French in the Mediterranean, the fleet ran into a heavy storm. Nelson's flagship, Vanguard, became dismasted and would have been wrecked, but Captain Alexander Ball, despite the dangers and Nelson's instructions not to do so, towed the flagship to safety.

1st August 1798

:

Fought at the Battle of the Nile. (Capt. Alexander Ball)

19th August 1798

:

Went with Nelson in the Vanguard to Naples. (Capt. Alexander Ball)

Sep-Oct 1798

:

Joined the blockade of Malta. (Capt. Alexander Ball)

18th Feb 1800

:

Helped capture the Généreux and was sent by Nelson to take her to Syracuse. (Capt. William Harrington)

1801

:

With Rear-Admiral John Warren's squadron in the Mediterranean.

October 1805

:

Became a hospital ship at Portsmouth.
---