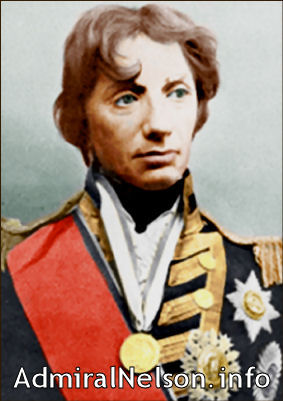 Copyright Vicki Hassona 2013

Foudroyant
80-gun 3rd rate ship-of-the-line.

Launched in March 1798.
Sold in 1892 to a private owner.
Grounded and wrecked at Blackpool in 1897.

Nelson's flagship as Rear-Admiral from June 1799 - July 1800 whilst he was in Palermo, although sometimes he just had his flag raised in her whilst he was ashore. It was aboard her that the Neapolitan Admiral was controversially tried and sentenced to death, and it is likely that Nelson and Emma Hamilton's daughter, Horatia, was conceived on board when Nelson took the Hamiltons to Malta in late April or early May 1800.

Career:

12th October 1798

:

Fought at the Battle of Tory Island which was commanded by Commodore John Warren, during which the French 74 Hoche (renamed Donegal), and the frigates Bellone (renamed Proserpine), Embuscade and Coquille, were captured. (Capt. Thomas Byard)

June 1799:

Arrived at Palermo, where Nelson took her as his flagship. (Capt. Thomas Hardy)

Nov 1799 - Feb 1800

:

At the blockade of Malta. (Capt. Edward Berry)

Feb 1800

:

Captured the Généreux (Capt. Edward Berry)

March 1800:

Captured the Guillaume Tell (Capt. Edward Berry). The Guillaume Tell and Généreux were the only two remaining ships from the Battle of the Nile, and Nelson was delighted to have caught them.

1801

:

Assisted with the British landing at Egypt under Admiral Lord Keith. (Capt. Philip Beaver)

13th March 1806

:

With the London and Amazon, captured the French Marengo(74) and La Belle Poule(40). (Capt. John Chambers White)

November 1807

:

Part of the blockade of the Tagus (Capt. Norborne Thompson).

1808

:

Rear-Admiral William Sidney Smith's flagship in the South American Station.

1812

:

Returned to England.

1820

:

Became a guardship at Plymouth.

1861

:

Became a training ship.

1892

:

She was sold to be exhibited at seaside resorts, but she became grounded and wrecked at Blackpool. But, aside from Victory, she was the only other of Nelson's ships to survive long enough to be photographed.
---