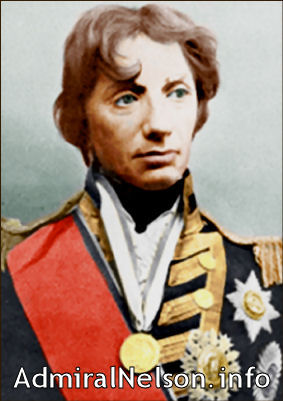 Copyright Vicki Hassona 2013

Theseus
Theseus in a hurricane, 1804

74-gun 3rd rate ship-of-the-line

Launched in 1786.
Broken up in May 1814.
Nelson commanded her as Commodore from May - August 1797.

Presence at Nelson's battles:

Nile:

Captain Ralph Miller

Career:

1797:

Nelson's flagship during the disastrous attack on Santa Cruz in which he lost his arm. Theseus' captain was Ralph Willett Miller.

June 1798

:

Joined Nelson's fleet for his chase across the Mediterranean in search of Napoleon's French fleet. Fought at the Battle of the Nile. (Capt. Ralph Miller)

14th Aug 1798

:

Went with Orion, Bellerophon, Minotaur, Defence, Audacious and Majestic to Gibraltar with prizes Franklin, Tonnant, Aquilon, Conquerant, Peuple-Souverain and Spartiate, then sailed to England after repairing. (Capt. Ralph Miller)

Feb 1799

:

Joined Thomas Troubridge's blockade of Alexandria, sent to assist with the defence of Acre under Sir Sidney Smith. (Capt. Ralph Miller)

14th May 1799

:

During the siege, French shells fell into the Theseus but didn't explode, and Captain Ralph Miller had the crew collect them and fire them back. A pile of shells were being refilled with gunpowder when one was accidentally ignited, and they all exploded. More than 40 men, including Miller, were killed.

1803

:

Present at the blockade of Saint-Domingue under Capt. John Bligh. In September, bombarded the fort at Port Dauphin and then captured the French 28-gun frigate Sargesse along with 2 brigs and 3 schooners.

March 1809

:

Fought in the Battle of Basque Roads, under Captain John Beresford, with Lord Gambier's fleet, where the anchored French fleet were attacked by fire ships and many ran aground.
---