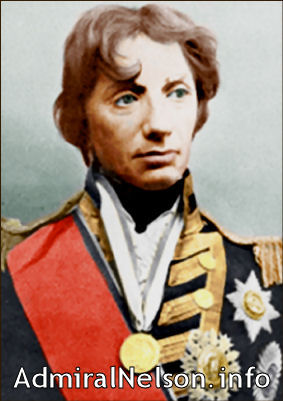 Copyright Vicki Hassona 2013

Victory
Victory by Geoff Hunt

104-gun 1st rate ship-of-the-line

Launched in May 1765.
Nelson's most famous ship - and, indeed, one of the most famous ships in the world - she was his flagship from the beginning of the Trafalgar Campaign in 1803, until his death during the battle on 21st October 1805. She conveyed his body home.
Drydocked at Portsmouth in 1922 and remains there to this day, open to the public as a museum and also serving as the flagship of the First Sea Lord.

Presence at Nelson's battles:

Cape St. Vincent:

The flagship of Admiral John Jervis, with Captain George Grey.

Trafalgar:

Nelson's flagship, with Captain Thomas Hardy.

Career:

27th July 1778

:

Fought at the 1st Battle of Ushant (100 miles from the French island of Ushant in the far western end of the English Channel). She was the flagship of Admiral Augustus Keppel, with Captain John Lindsay. A fleet of 30 British came up against 27 French, and though the French wanted to avoid battle, a change in the wind forced them into it. It was a somewhat chaotic and indecisive action. After the two lines had passed each other, Keppel signalled for his rear and van divisions, commanded by Vice-Admiral Hugh Palliser and Vice-Admiral Robert Harland respectively, to form a line with the main body of the fleet. While Harland complied, Palliser's own ships were badly damaged and unable to obey immediately. Eventually, Keppel was forced to supersede Palliser's command by signalling each of his division's ships individually. By the time they had all joined the main fleet, night had fallen and the French had gone. Keppel blamed Palliser, and Palliser demanded that Keppel be court-martialled for misconduct. Keppel was subsequently acquitted and the court found that the charges had been brought maliciously, and though Keppel had to strike his flag, Palliser had to resign from Parliament. He demanded his own court-martial so he could give his own version of events. He was acquitted, but criticised for not reporting the damage of his ships to his superior quickly enough.

12th Dec 1781

:

Fought in the 2nd Battle of Ushant, and was the flagship of Rear-Admiral Richard Kempenfett, with Captain Henry Cromwell. 13 British ships attacked a convoy of 20 French transport ships accompanied by 11 ships-of-the-line, one 50-gun ship, and 5 frigates. There wasn't a battle as such, but the British were able to cut off the convoy from their escorts, and carry off 15 transports with supplies and troops intended for the West Indies.

20th Oct 1782

:

Battle of Cape Spartel (in Morrocco). Flagship of Admiral Richard Howe, with Captain Henry Duncan. The action was fought between a fleet of 34 British against 46 Franco-Spanish, led by Admiral Luis Córdova. Howe escorted a merchant convoy to Gibraltar, which was being blockaded by the French/Spanish. The convoy managed to evade the blockade and get into Gibraltar. Cordova chased after Howe and tried to force a battle, but the British ships were faster and escaped.

1793

:

Joined the Mediterranean fleet and became the flagship of Vice-Admiral Alexander Hood.

April 1794

:

At Bastia, which was taken on the 21st of May (with Nelson in the Agamemnon). (Capt. John Knight)

June 1794

:

At Calvi, which was taken on 10th August (with Nelson in the Agamemnon). (Capt. Knight)

August 1794

:

Left Bastia to chase a French squadron which got into Gourjean Bay (at Ile Sainte-Marguerite, off Cannes in France). Hood then went back to Corsica, leaving a squadron to blockade the French - however, the French ships escaped during a storm and got to Toulon.

Nov 1794

:

Took Hood back to England.

13th July 1795

:

Fought at the Battle of Hyères Islands; flagship of Rear-Admiral Robert Mann, with Captain John Knight. With the Culloden and Cumberland, Victory attacked the French 74 Alcide, which later exploded as Victory prevented French frigates from towing her to safety. But the end result was indecisive. See the Agamemnon for more details.

Nov 1795

:

Admiral Hotham was replaced by Admiral John Jervis, who took Victory as his flagship and cruised between Toulon and Minorca.

14th Feb 1797

:

Fought at the Battle of Cape St. Vincent as the flagship of Admiral Jervis, with Captain George Grey. Nelson was present in the Captain.

1797-99

:

Became a prison ship at Chatham.

1800-03

:

Underwent a major repair and refitting.

1803-05

:

Nelson's flagship throughout his blockade of Toulon, and the Battle of Trafalgar.

Victory was very badly damaged during the battle.

22nd Dec 1805

:

Arrived at Chatham with Nelson's body.

May-Oct 1808

:

With Vice-Admiral James Saumarez's fleet in the Baltic (Captain George Hope); in August, was with the Swedish fleet blockading the Russians in Rogerswick.

From

1812

, she was out of commission in Portsmouth. She was drydocked in January 1922, and remains there to this day, under restoration.

She serves as the flagship of the First Sea Lord and is the oldest commissioned war ship in the world - technically she could be sent into battle! She is open to the public as a museum and I highly recommend visiting. On 21st October every year, Trafalgar Day, a ceremony is held on board to honour Nelson and his final victory, and his famous signal, England expects that every man will do his duty, is flown. Plaques can be seen both on the deck where he fell, and below decks where he died.
Bonus photos: taken by me on Trafalgar Day 2016 :-)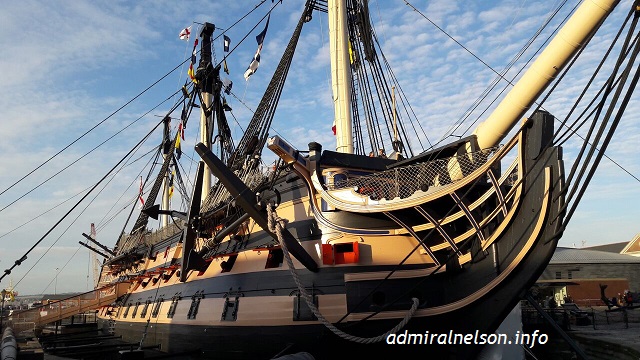 On Trafalgar Day, Victory flies the flags for the signal 'England expects that every man will do his duty'.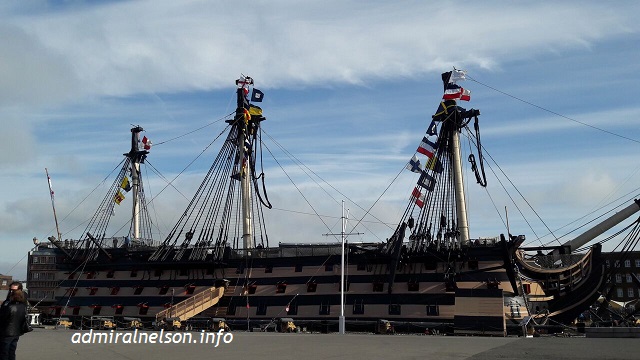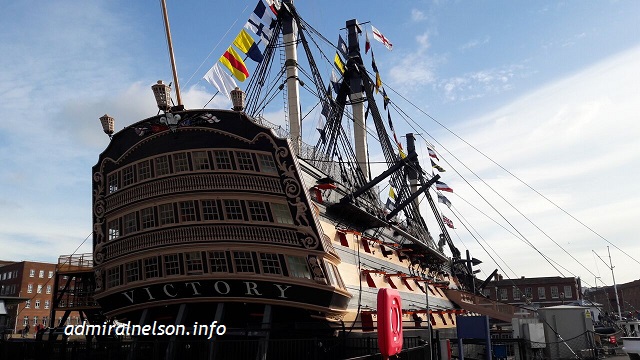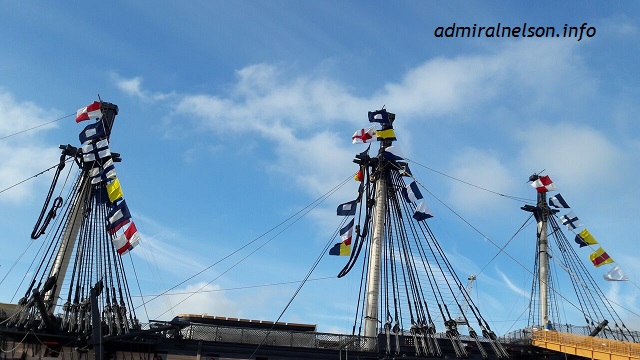 Nelson's bed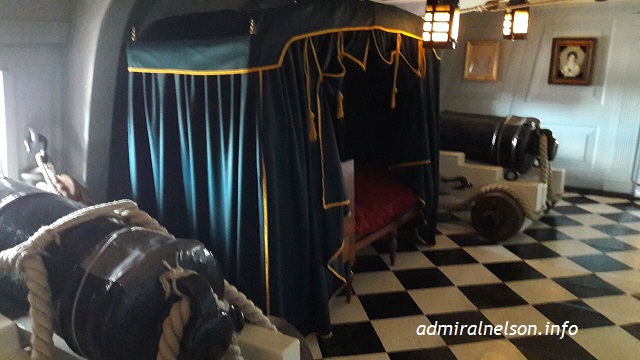 The Admiral's day cabin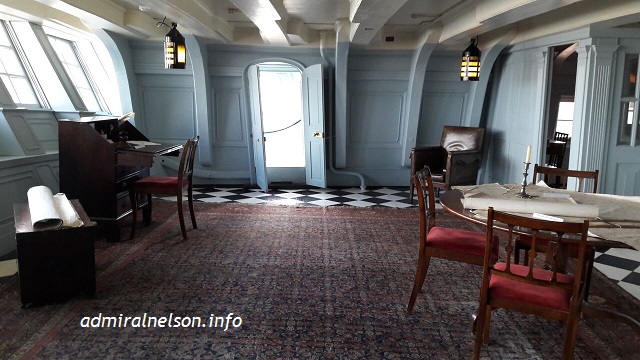 Nelson's chair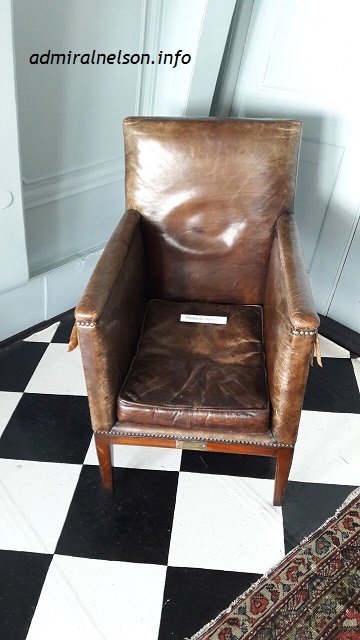 Nelson's writing desk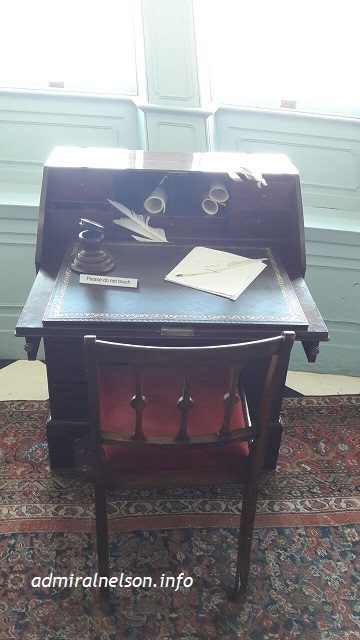 One of Victory's gun decks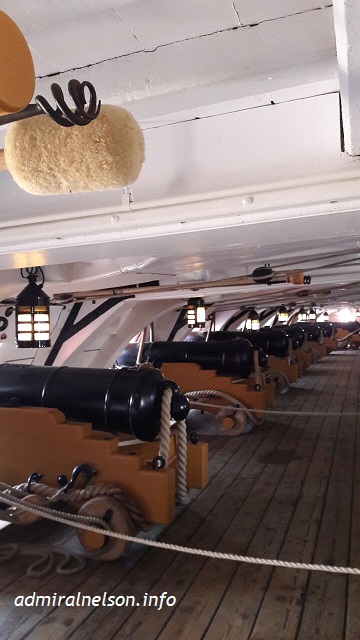 The plaque on the deck marking the place that Nelson fell, and the wreath that is hung over it on Trafalgar Day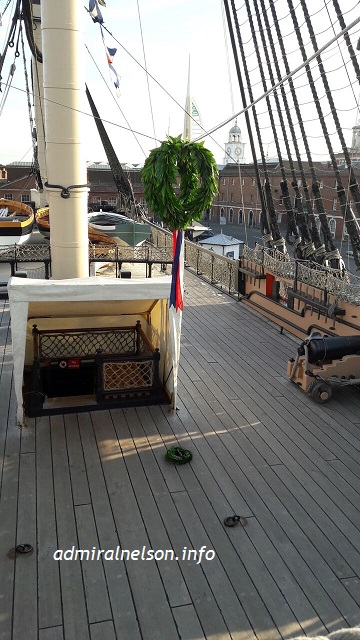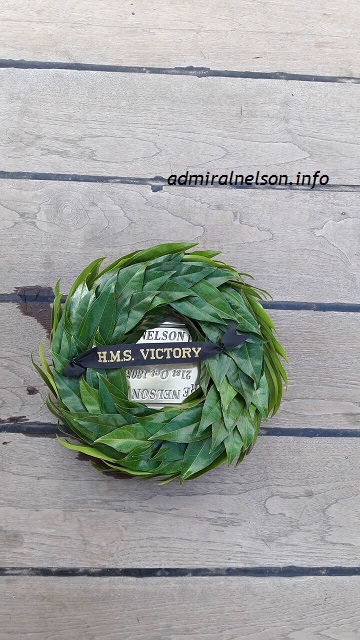 The spot below decks where Nelson passed away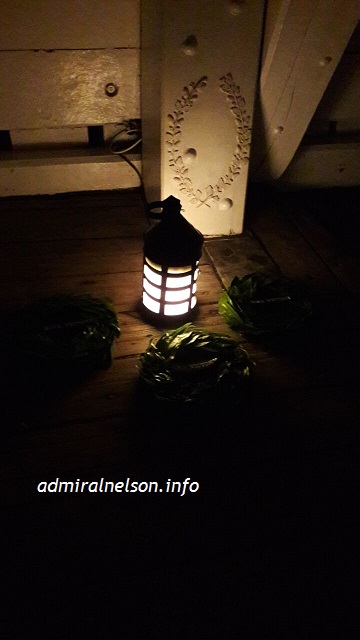 ---