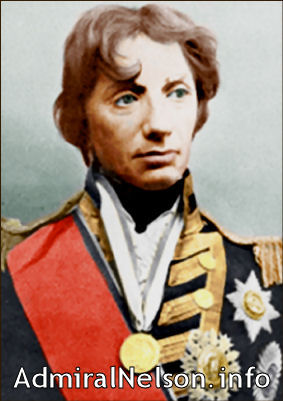 Copyright Vicki Hassona 2013

Agamemnon
Agamemnon fires on Ca Ira, by Geoff Hunt

64-gun 3rd rate ship-of-the-line

Launched in 1781.
Wrecked in 1809.
Nelson was her Captain, then Commodore, from January 1793 - June 1796, and he was very fond of her and her crew. His stepson, Josiah Nisbet, was with him as a midshipman, aged 13.

Presence at Nelson's battles:

Copenhagen

:

Part of Nelson's division, but became grounded before she got to the fighting.

Capt. Robert Devereux Fancourt

Trafalgar Campaign:

With Cornwallis' Channel Fleet in 1804; fought in the Battle of Cape Finisterre on the 22nd July 1805.

Capt. John Harvey.

Trafalgar:

Commanded by a long-time friend and comrade of Nelson's, Capt. Edward Berry. Part of Nelson's column, she helped forced the Santisima Trinidad to surrender, and then was part of the line formed to meet Dumanoir's returning ships.

Career:

12th December 1781:

Fought in the 2nd Battle of Ushant. See the Victory for more details of the battle.

Capt. Benjamin Caldwell.

9th - 12th April 1782:

Fought in the Battle of the Saintes (islands in the West Indies) under Capt. Benjamin Caldwell. 36 British ships commanded by Admiral George Romney defeated a French fleet of 33 commanded by Comte de Grasse, which had been sailing to join a Spanish fleet with plans to invade Jamaica.

1794:

Under Nelson, seamen from the Agamemnon helped capture Bastia, and later took part in the siege of Calvi where Nelson received the injury to his right eye that would leave it sightless.

14th March 1795:

Fought in the Battle of Genoa and helped to capture the Ça Ira.

July 1795:

Fought at the Battle of Hyères Islands. On the 7th, she was chased by the French fleet, and signalled to the British fleet (commanded by Admiral Hotham) by firing cannons. The French found themselves outnumbered by the British by 17 to 22, and tried to escape, but the British chased and the van, including Agamemnon, managed to get within range of the French rear. The French ship Alcide surrendered but later blew up. Nelson in the Agamemnon, along with the Cumberland, closed in on another ship, but then Hotham signalled for the fighting to stop, and the French got away.

May 1797:

Involved in the Nore mutiny. (Capt. Robert Fancourt)

25th March 1800:

Hit the Penmarks rocks off Brest and was so badly damaged that the crew needed help on the pumps from crews of two sloops, the Chatham guardship, and soldiers from the Pendennis garrison too! She made it to Plymouth on the 31st March and signalled for help, and had to be lashed to a sheer hulk just to stay afloat. (Capt. Robert Fancourt)

2nd April 1801: In Nelson's division at the Battle of Copenhagen, but she had barely begun firing when she ran aground whilst rounding the Middle Ground. She could do nothing but fly a distress flag until she could be pulled afloat during the night after the battle.

Capt. Robert Devereux Fancourt

1804:

Joined Admiral Cornwallis' fleet in the Channel. (Capt. John Harvey)

22nd July 1805:

Fought in the Battle of Cape Finisterre. (Capt. John Harvey)

13th Oct 1805:

Joined Nelson off Cadiz after narrowly escaping capture. During the night on the 10th, she had become surrounded by a French squadron of five ships. Captain Edward Berry tried to trick them into thinking he was leading them into a trap, by firing guns and making signals, and managed to escape when they went after a convoy instead.

21st Oct 1805:

Fought in the Battle of Trafalgar, eighth in Nelson's division. She battered the colossal Spanish ship, Santisima Trinidad, into submission, and was one of the ships sent by Hardy to intercept the enemy van that had turned and were heading towards tnem. At one point, Agamemnon was attacked by four ships at once, but as their guns were pointed so high, and she was a relatively little ship, she didn't take much damage and only two men were killed and seven wounded. (Capt. Edward Berry)
After Trafalgar, she towed the Colossus to Gibraltar, repaired, and then re-joined Admiral Collingwood's blockade of Cadiz.

1806:

Joined Admiral John Duckworth's squadron in the West Indies, and fought in the Battle of San Domingo on the 6th February. Commanded by Capt. Edward Berry, she assisted in driving the French Admiral's flagship, Impérial, on shore.

1807:

Joined James Gambier's Baltic Fleet and fought in the 2nd Battle of Copenhagen on the 15th August. But, as in Nelson's battle there, she was grounded. (Capt. Jonas Rose)

Feb 1808:

Sailed to Brazil.

1809:

A survey of her in January found many defects; then on the 17th June she hit a shoal and was wrecked. A court martial decided she could have been saved if she hadn't been in such poor condition, so her Captain, Jonas Rose, was acquitted.

1993: The wreck of Agamemnon was discovered and some artefacts have since been recovered, including a seal with the name 'Nelson', and one of the 24-pounder guns.
---